General Counsel, Dylan Fuge
EMNRD General Counsel, Dylan Fuge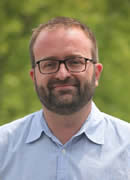 Dylan Fuge was appointed the Energy, Minerals and Natural Resources Deapartment's General Counsel in March 2021. Mr. Fuge is a natural resources and public lands attorney with 15+ years of experience in both the private and public sectors advising clients on complex natural resources and regulatory issues.
Mr. Fuge joins the Department from T-Mobile, where he was responsible for providing nationwide local permitting and advocacy support for the Company's cell site development efforts. Before that, Mr. Fuge spent six years at the Department of the Interior in Washington, D.C., where he served as Counselor to Director of the Bureau of Land Management and as an Attorney Advisor in the Office Solicitor. His Interior portfolio included oil and gas development and oversight, renewable energy project development, and land use planning and general public lands management. Mr. Fuge began his career in private practice advising clients on complex environmental regulatory issues at Latham & Watkins in Washington, D.C. and Robinson & Cole in Hartford, Connecticut.
Mr. Fuge holds degrees in Geology and Studies in the Environment from Yale University and earned his Law Degree and a Masters of Environmental Management from Duke University. Mr. Fuge grew up in Santa Fe and his parents still live here. He is the proud father of two daughters. In their free time, his family enjoys traveling, skiing, and the great outdoors.
---
The Office of General Counsel provides policy guidance, legal advice and representation to the Cabinet Secretary and Division Directors. This includes legal advocacy and representation of the Department in both administrative and judicial proceedings and the development of legal strategies that further the Department's mission and goals. The Office of General Counsel regularly interacts with other agency attorneys including the Attorney General's office and attorneys representing entities regulated by the Department to negotiate, or litigate if necessary, the resolution of legal disputes to support the Department's goals. The attorneys within the Office of General Counsel are responsible for reviewing the contractual commitments entered into by the Department each year and assisting divisions with personnel matters, including providing advice and direction on disciplinary actions and representing the department in State Personnel Office hearings.
The Office of General Counsel also spearheads the Department 's bill analysis process by drafting clear, concise proposed legislation on matters affecting the Department for the Cabinet Secretary and Division Directors and helps oversee a team of approximately 40 people who review proposed legislation and its effect on the Department.
Dylan Fuge, General Counsel, 505-476-3200, dylan.fuge@state.nm.us
Cheryl Bada, Deputy General Counsel, 505-476-3214, cheryl.bada@state.nm.us
Eric Ames, Attorney, 505-476-3463, eric.ames@state.nm.us
Dana David, Attorney, 505-476-3415, danaz.david@state.nm.us
Susan Sita, Attorney, 505-476-3216, susan.sita@state.nm.us
Denise Zendel, Contracts Analyst, 505-476-3215, dzendel@state.nm.us
Brittany Dutton, Paralegal, 505-476-3211, brittany.dutton2@state.nm.us