Join the Forestry Division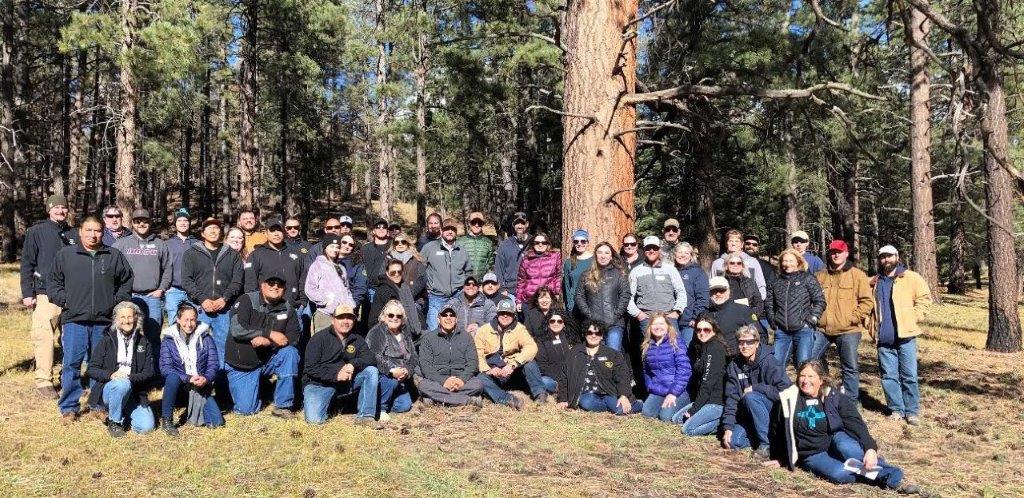 EMNRD is excited to quickly fill a variety of positions within the Forestry Division. During the Rapid Hire Event being held on March 28, 2023, qualified applicants will be interviewed by the hiring state agency via Zoom. Registration for this event can be completed at https://bit.ly/march-emnrd though 12 P.M. on March 27, 2023. Once registered, you will receive an email with your interview time and instructions on how to submit your resume, school transcripts, and other required documents.
Forest & Watershed Health Coordinator – Albuquerque (EMNRD #00005311)
Special Projects Forester – Las Vegas District (EMNRD #00005313)
State Fire Management Officer – Santa Fe, Wendell Chino (EMNRD #00005314)
Law Enforcement Offcer – Santa Fe, Wendell Chino (EMNRD #00005321)
Fire Management Officer – Cimarron District (EMNRD #00005329)
Timber Management Officer – Chama District (EMNRD #00005334)
Park Ranger – Capitan, Smokey Bear Visitor Center (EMNRD #00005801)
Crew Supervisor – Santa Fe, Wildfire Response Program (EMNRD #00038397)
Forester Supervisor – Inmate Work Camp, Los Lunas (EMNRD #00042401)
Forester A – Bernalillo District (EMNRD #000042403)
Administrative Contract Specialist – Santa Fe, Wendell Chino (EMNRD #00042408)
Forest Health Program Coordinator – Santa Fe, Wendell Chino (EMNRD #00059953)
Assistant Crew Boss – Santa Fe, Wildfire Response Program (EMNRD #00070849)
Project & Urban Forester – Socorro District (EMNRD #10115043)
Engine Boss – Las Vegas District (EMNRD #10115195)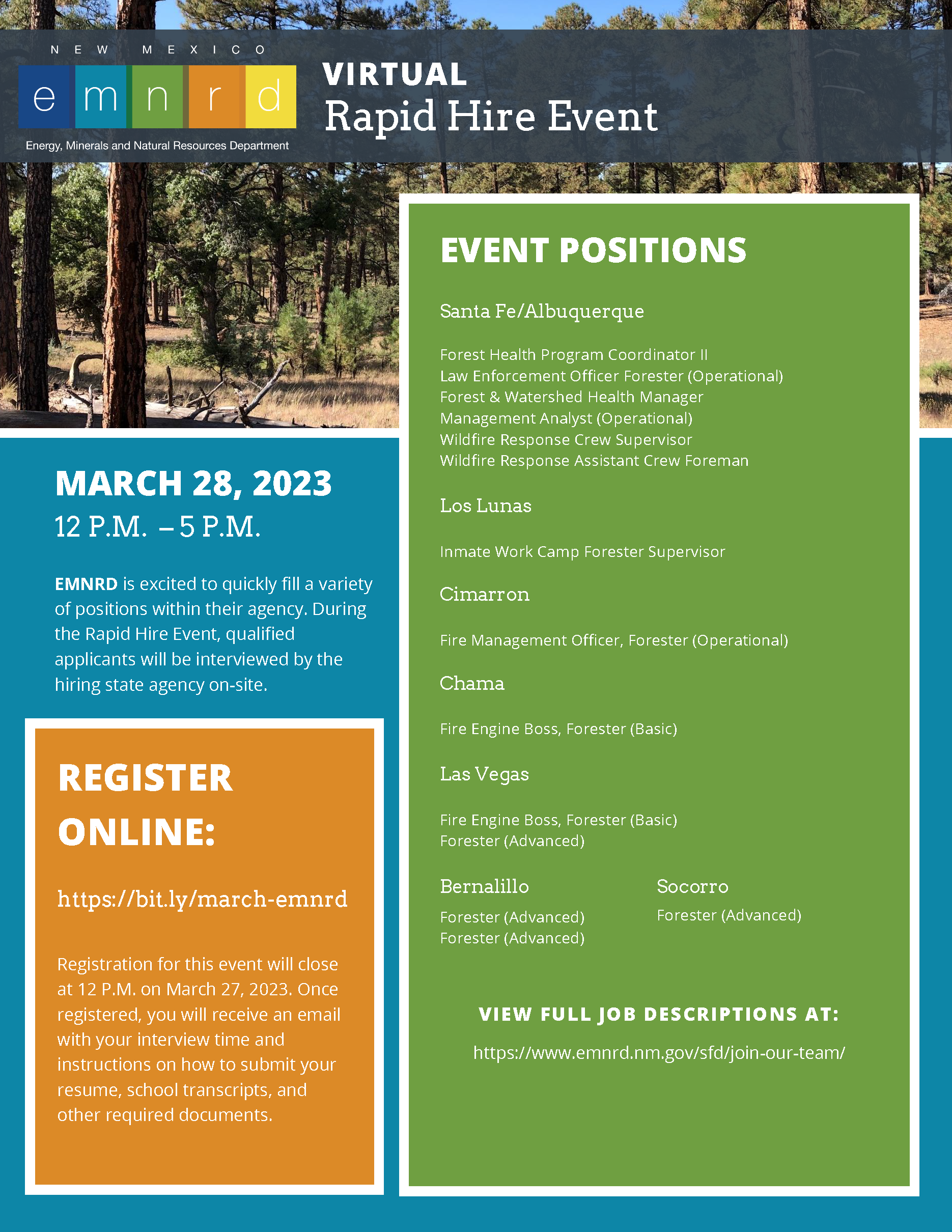 To find more  positions with EMNRD – please follow this link:

EMNRD Job Opportunities
and select Enrgy, Minrls & Ntrl Rsrcs Dpt" under the Agency tab on the left to filter jobs.
To apply: please visit the State Personnel website at "NM State Personnel Office" to submit your application and transcripts. Please make sure that you have received an email confirmation stating that you have applied successfully. Please contact the SPO Career Services Bureau at (505) 476-7759 if you do not receive a confirmation email or have trouble during the application process. To learn more about how your application is ranked, please visit this SPO page.
Note to Veterans and National Guard: In order to receive preference from the State of NM for serving in the National Guard or being honorably discharged from the United States Armed Forces, the veteran must meet the eligibility requirements. Please click here to learn more about these requirements.