New Mexico has a wide range of paddle craft opportunities from guided seasonal adrenaline pumping white-water rafting and sportyak trips on the upper Rio Grande to mellow urban and rural trips by stand up paddleboards, canoe, and recreational kayaks on the middle and lower Rio Grande. Popular on New Mexico lakes are paddleboat/pedalcraft like sea kayaks, recreation touring kayaks, pontoon rowers, stand up paddleboards or canoes. They are best used on the small or designated "no-wake" lakes during the summer months.
In the fall most motorboating drops off at the large most popular state park operated lakes and they become calmer, quieter, are still warm in temperature, definitely uncrowded, and a joy to explore, bird watch or camp out on with a kayak or canoe. Some kayakers and canoeists even have been known to go out to enjoy the Albuquerque International Balloon Fiesta by going down the Rio Grande.
Each state park lake is unique in it's kayak or canoe opportunities. One can enjoy exploring the quiet Willow Creek arm on Heron Lake and take in the Rio Chama Canyon arm of El Vado Lake on the same trip.  Primitive camp along the shoreline in the fall at Navajo Lake.  You can move along the south shore eastward at Santa Rosa Lake and then turn north thru the shallow gap to the Skeleton Forest and make an ambitious trip to fish and exploring the slow moving Pecos River Canyon as it enters the lake past Horseshoe Bend. You can put in at Rock Canyon Marina or Monticello Point at Elephant Butte Lake State Park in the fall and find a quiet campsite on the east side of the lake. You can take a trip down the Rio Grande from the base of the Elephant Butte Dam at the State Park put-in and run it thru the hot springs town of Truth or Consequences to the wildlife meanders that enter Caballo Lake and finish at your own lake side camp at Caballo Lake State Park.  You could even put-in when the water is up at the Leasburg Dam Day Use area for a half day paddle to the Highway 70/Picacho Bridge in Las Cruces.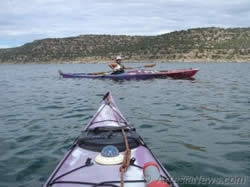 Sea Kayaking at Navajo Lake State Park with Marcel Bieg, Instructor
Outdoor Leadership Program
San Juan Community College
Farmington, New Mexico
Using paddle craft requires a set of best practices for safety.  Learn them. Pay close attention to your self rescue equipment both required(Mandatory to be worn on all lakes and rivers statewide is a life jacket or PDF, a sound producing device such as a whistle or horn, and a white light for shining at other boats at night )and recommended back ups for self rescue (Paddle leashes, Paddlefloats, Roll-Aid, Sponsons, Tow Lines, Foot Stirrups). Practice their use, your life depends on it. And although New Mexico has the impression of being in the desert many lakes and rivers are snowmelt fed or have dams that release deep and cold waters.  Dress for the temperature of the swim – especially in early season.
It means proper dressing for possibility of Cold Water Shock – the sudden immersion in cold water, which will trigger the involuntary "gasp" reflex. This reflex will cause, if your head is underwater especially if you were not wearing your life jacket, inhalation of water into the lungs starting your drowning process.  In New Mexico cold water "shock"and "Gasp" is a major cause or contributor of death when paddle craft accidentally capsize. An early season fatality on the Rio Grande likely had the "shock" and "Gasp" as a main contributor to the death. 
Without controlling your breath during the first minute or so you can even hyperventilate and pass out. You then have about 3-4 minutes to successfully reenter your craft before your body chemistry slows down and muscles fail you.
That's not to discourage you from getting out on the water but just to make you realize that generally the risks increase from a number of factors that can be minimized thru education and experience. Here are the real statistics. Other than personal watercraft, paddle craft in a recent study are shown to have the highest fatality rates per million boating hours participation nationally with the exception of personal watercraft. (Canoes and kayaks 42 deaths per million hours, personal watercraft 24 deaths per million hours, rowboats 20 deaths per million hours, rafts 17 deaths per million hours, open motorboats 14 deaths per million hours, sailboats 12 deaths per million hours, cabin motorboats .07 deaths per million hours)
Risks are minimized by starting out with experienced paddlers and instructors.Contact your local college, community aquatics centers, military recreation activities center, or city/town swimming pools that may have skills sessions. These organizations and clubs will increase your margin of safety by allowing you to do these activities with others that back you up in an emergency. In New Mexico those include the American Canoe Association and their instructors, the Adobe Whitewater Club, and New Mexico Meetup.com Groups specific to Kayaking or Canoeing. There is free paddlesports on-line learning as well and even an animated video short to get you started thinking safety. 
Local practice, New Mexico Paddlecraft, Canoe, Kayak rentals and instruction is available at a number of locations. 
Jennifer King, Rio Rancho Aquatic Center, 745 Loma Colorado St. NE, Rio Rancho, NM 87124  505-891-5230 or 505-891-5232 for pool practice sessions. and a specialty youth summer program called Spirit of America.
Bernalillo County Parks and Recreation, Rio Grande Indoor Pool 2312 Arenal Road SW Albuquerque, NM  87105 (505) 314-0169 for pool kayak practice sessions and instruction.
Aquatic Center in Los Alamos 505-662-8170 the Olympic Pool is open @ 7:25 p.m. for boat cleaning prior to pool entry for an hour of open boating every Tuesday April thru August and from September thru March once a month on the last Tuesday of the month.
Farmington contact theSan Juan College Outdoor Recreation Program, Aside from a great set of courses covering canoeing, rafting and whitewater kayaking, the program does hold clinics
Courses and enrollment contact Marcel Bieg, Coordinator Outdoor Leadership Program, 4601 College Boulevard, Farmington, NM 87402-4699, (505) 566-3113 Fax 505-566-3790 biegm@sanjuancollege.edu who offers great programs year around including a multi day summer trip OLER 299-002 Expedition Sea Kayaking.
Military member or with base access contact Sam Glaser Outdoor Adventure Programmer –Kirtland Air Force Base Outdoor Recreation Office – Albuquerque:    505 846-3923 
Military member or with base access contact Tim or Steve Outdoor Recreation Programmer –White Sands Missile Range Office –
White Sands (Close to Las Cruces):   505-678-1713 Amy Dent amy.dent@us.army.mil
New Mexico State University, Outdoor Recreation Las Cruces, New Mexico. You can rent from NMSU for $10 a day. So for a weekend that would be $30. They will give you a canoe, paddle, and throw cushion, whistle, bailing bucket, bow painter, and a Life Jacket for each person on board.
Coronado Camping Park, 106 Monument Road Bernalillo 87004 , New Mexico. A livery is starting up at this town park location specializing in the Class I and II sections of the Rio Grande above Albuquerque and lake tours. (505) 980-8256.
Heron Lake State Park, Los Ojos, New Mexico.  There is a livery that specializes in tours on the lake starting up outside the park.
Elephant Butte Lake State Park, Elephant Butte, NM.  One of the marinas has some kayaks for rent. Marina Del  Sur.  Marina Del Sur is located in Elephant Butte Lake State Park east of the Park Visitor Center and has moorage, fuel, food, and fishing tackle. Rentals include houseboats, ski boats, pontoons and kayaks. For more information, call (505) 744-5567 or visit www.marinadelsur.info.
Civic Groups can also call 505-476-3390 for American Canoe Association entry level instruction for recreational kayaking.
(Check also at local outdoor stores and outfitters found in your phone book yellow pages for rentals. Some lake state parks may know of rental companies off site so give them a call.)
Video tapes and DVD's with introductory information are also available
by calling 1-888-NM-PARKS.
Best Practice Page 1 All Paddlecraft General Considerations
Best Practice Page 2 Canoes (large PDF file 2+MB)
Best Practice Page 2 Rafting (large pdf file 2+MB)
Best Practice Page 2 River Kayaking (large PDF file 2+ MB)
River and Whitewater Definitions Here
Canoe Rafting and Kayaking Dressing for Cold Water not the Air