San Pedro Mine Safeguard Project – Phase III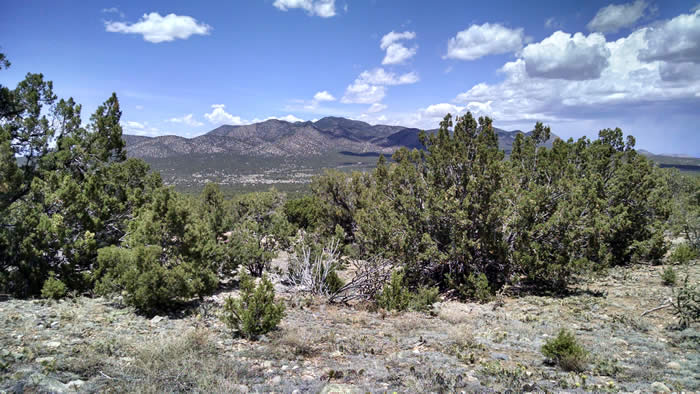 SUMMARY OF WORK
The San Pedro Mine Safeguard Project – Phase III area is near the village of Golden, in Santa Fe County, New Mexico. The project area (see Figure 1) is mainly on private land within the Ortiz Mine Grant, with one feature located on State Trust land. (USGS 7.5' Golden Quadrangle). Surface geology consists of Quaternary alluvial deposits and Tertiary intrusive rocks. Site vegetation consists of moderately-dense piñon and juniper trees, forbs, and grasses.
This project involves the following work:
Backfilling 52 mine features (see Figure 6) consisting of prospect pits and vertical shafts using mine waste soil and rock;
Construction of Vertical Double Culverts with Bat Gate and Polyurethane Foam (see Figure 2), constructed on two vertical shafts;
Construction of Horizontal Culvert with Bat Gate in Grouted Rock Bulkhead (see Figures 3, 4, and 5); constructed on three horizontal adits; one of the closures includes a removeable locking bar;
Construction of two barbed wire fences (see Figure 7) around open prospect pits;
Capping an 8-inch diameter, 93 feet deep vertical pipe with a weathering steel cap (see Table 1);
Seeding of all areas disturbed by construction.
NEPA Public Meetings/Notices
Notice Type
Date & Time
Type of Meeting
Attendance List
Public Notice
 
Public Meeting
 
Specifications, Maps and Images
Specifications
Figures
ALL FIGURES
Images of the Project
Bids
Sealed Bid Opening
Pre-Bid Opening

NM STATE PURCHASING DIVISION
ITB No.  10-52100-20-06025
DATE: Friday,October 30, 2020, 2:00 PM MDT

BID FORM
REVISED BID FORM
Addendum No 1


APPARENT LOW BIDDERS LIST

MANDATORY PRE-BID CONFERENCE
DATE: Thursday, October 8, 2020, 10:00 AM

KMZ file (map)

 
 
Administrative and Technical Questions and/or Comments
Administrative: Amanda Muller @ 505.819.7297 or

 

e-mail
Technical: Meghan McDonald @ 505.629.9872 or

 

e-mail
Completion of Contract
Year Completed:
Cost: $
Project Engineer: Meghan McDonald, P.E.
Project Manager:  Laurence D'Alessandro