Smokey Bear Historical Park
Smokey Bear Historical Park – Capitan, New Mexico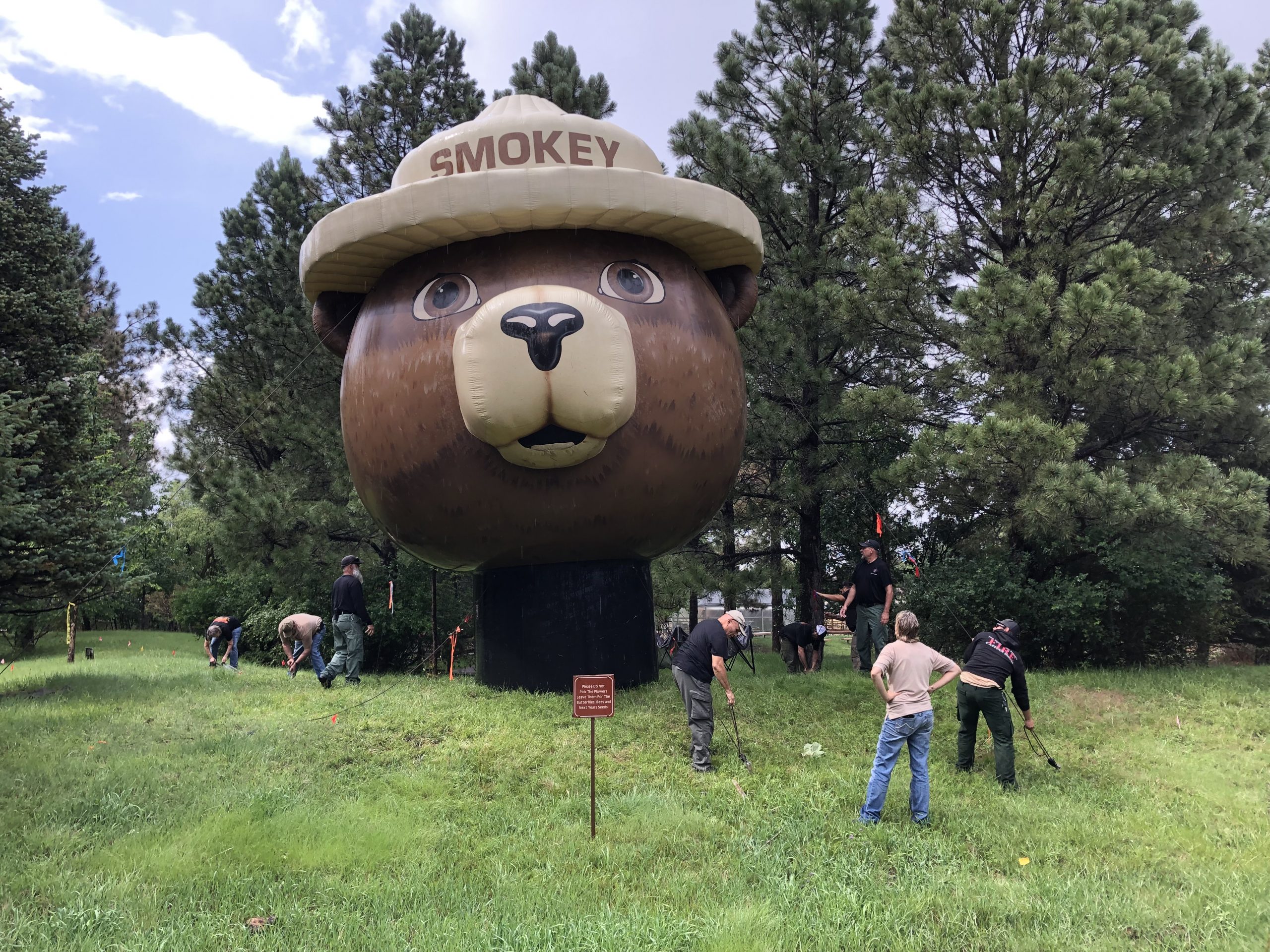 Hours: 9:00 a.m. to 4:30 p.m. Tuesday – Sunday.

(last entry 4:15pm)
We are closed on Mondays, Thanksgiving, Christmas, and New Year's Day.
$2.00 for adults
$1.00 for children ages 7-12.
Children 6 and under are free.
We can only accept cash at this time. Guests are encouraged to have exact change.
Pets are not permitted at the Park, but service animals are always welcome.
Para más información sobre Smokey Bear Nacional en español, haga clic aquí.
About Us
Smokey Bear Historical Park was established in 1976 to honor Capitan's favorite son, Smokey Bear. Nearly three decades earlier, Smokey was an orphaned little bear cub with burned paws, found in the aftermath of the Capitan Gap wildfire. Smokey Bear rose to fame as an icon for forest fire prevention and he lived in Washington, D.C.'s National Zoo for 26 years. When he passed away, the famous black bear was laid to rest in his hometown. His burial site is a special place within the Smokey Bear Historical Park.
The park is a true celebration of Smokey's legacy. At the visitor's center, guests can find fascinating exhibits about forest health, wildfires, the science of fire ecology, and a historical look at wildfire prevention. The theater features a short film about how forest health and fire impact our lives today.
Outside, admirers have the opportunity to visit Smokey Bear's final resting place. Guests will also find exhibits about vegetative life zones found in New Mexico and explore the beauty our state's natural resources. The outdoor amphitheater is the perfect setting for school groups to enjoy the park's educational programs. There is also a playground, picnic area and Capitan's original train depot.
An extra treat for kids is the Junior Ranger and Little Ranger programs. Younger visitors can become official rangers (and earn some neat souvenirs) by completing an engaging activity about fire prevention and Smokey Bear. It is a chance for kids to learn new things and create fun memories.
Smokey Bear Historical Park has been operated by the New Mexico Forestry Division's Capitan District since 1992.
Wildland Fallen Firefighter Memorial
The Wildland Fallen Firefighter Memorial honors more than 30 wildland firefighters who have lost their lives while fighting wildfires in New Mexico. The bronze statue was created by Matt Glenn owner of Big Statues, LLC. in Provo, Utah, and dedicated on May 4, 2019, in the gardens of Smokey Bear Historical Park in Capitan. Glenn is well known for his work, including a bronze statue in Prescott, Arizona made for the 19 Granite Mountain Hotshots who perished during the 2013 Yarnell Hill Fire.
The bronze Memorial is the only one of its kind in New Mexico and provides a quiet place for those who wish to pay their respects and reflect on the wildland firefighters we have lost in the line of duty. The Smokey Bear Hometown Association assisted with gathering private donations for the one-of-a-kind Memorial. 
Kathy Thibodaux, Chaplain for the Sandoval County Fire Department, created the video below in remembrance of the firefighters honored at the memorial.