Mining Data and Statistics
MMD uses a Geographic Information System (GIS) to locate and track mining activities in the state.
This is a computer system that can capture, store, analyze and geographically display referenced (location) information. The power of this system is its ability to draw conclusions about relationships between data that have a spatial component. GIS provides a method of displaying accurate mapping and database information to the staff and public.
User Awareness: ArcGIS Server Web Maps
Our web maps are interactive and technical in nature. A high-speed internet connection is recommended. A dial-up connection may cause frustratingly slow map delivery.
The GIS mine data web application will run in most web browsers including Safari, Chrome, Internet Explorer, and Microsoft Edge.
This map displays active and inactive mine locations in New Mexico mines relative to transmission line locations.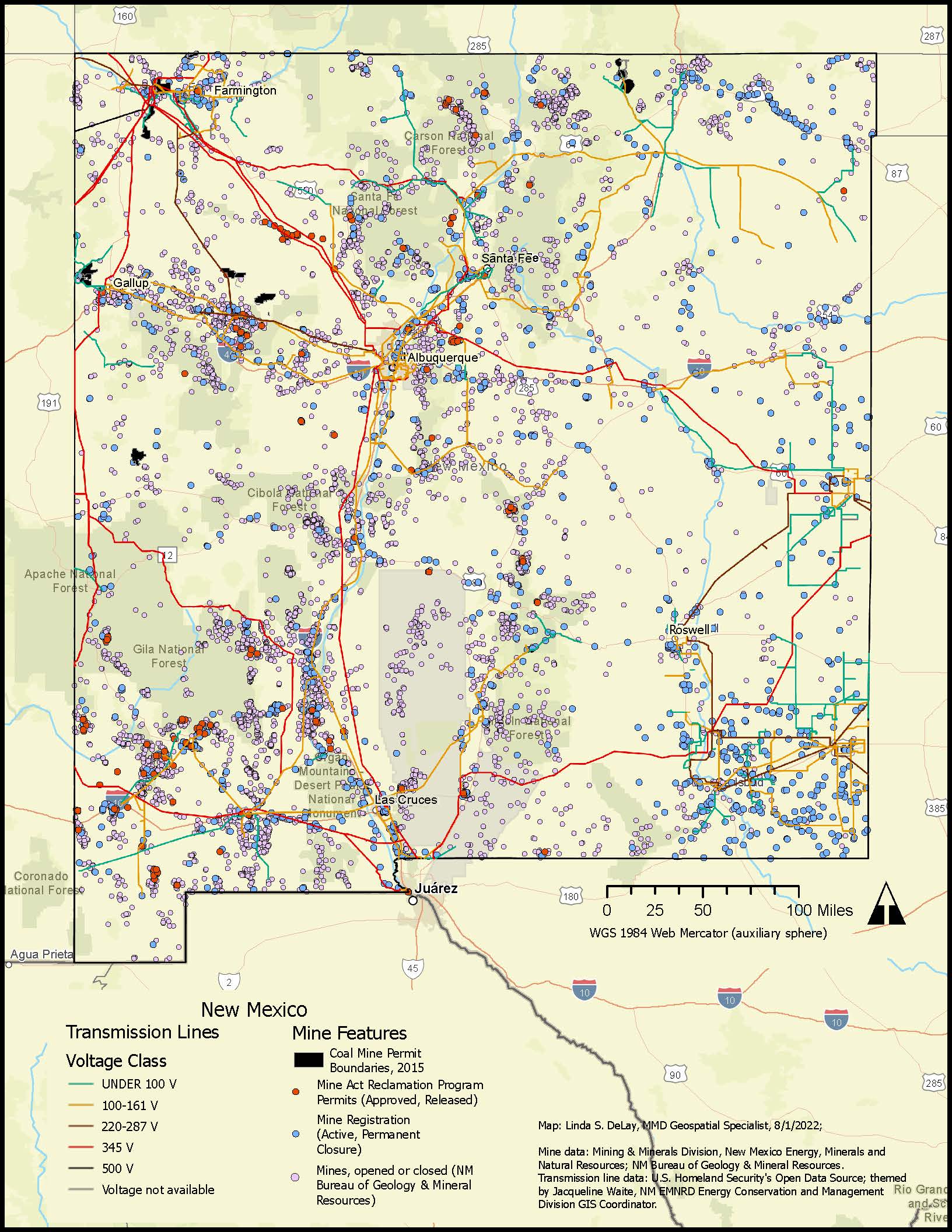 This web map displays information about New Mexico coal mines. The map includes general data about coal mines, coal fields and districts, geology, and soils.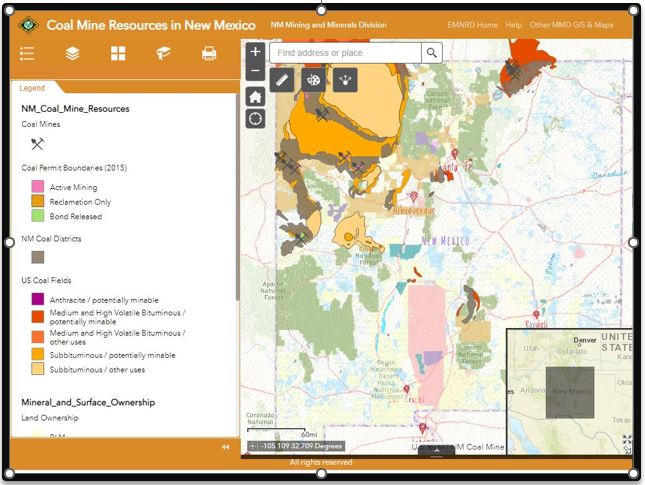 Mine Registrations and Permits (searchable database) – MMD Online
Visit MMD Online for a new search tool for New Mexico's mines. Enter your own search parameters and export the results (that includes up to 30 fields of helpful information including latitude/longitude) to an Excel spreadsheet or to KML (Keyhole Markup Language) to display geographic data in an Earth browser. This is real time information linked to the latest MMD database content. By statute (69-26-20 NMSA), some information is not made  public. You can export state-wide mine registrations (excludes abandoned mines): click on Reset, then Search, then Export All to Excel or to KML.
The Registered Mines in New Mexico Web Map provides an interactive map symbolized by commodities with additional layers referencing land surface management areas and the public land survey system (PLSS). Information about the mines can be viewed in a pop-up or table. There is a measurement tool and search bar for address or place to navigate around the map. Users can add markers, drawings, and text on the map. The map can be printed, exported as a PDF, or shared with a link.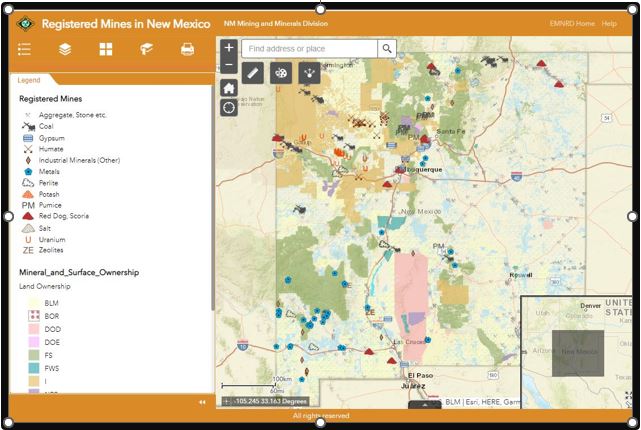 STORY MAPS
(full functionality is not guaranteed in any browser other than MS Edge and Google Chrome)
These story maps present AML's goals to safeguard the public from the hazards of abandoned mines while conserving wildlife habitat, preserving mining history, and highlighting the legacy of environmental impacts by reclaiming pre-1977 mining activity. The story map journal represents these diverse activities by exploring a selection of projects, initiatives, and community engagement by utilizing maps, multi-media, and links to other information.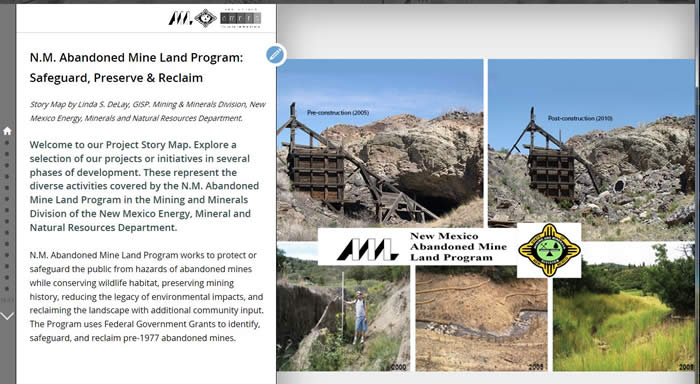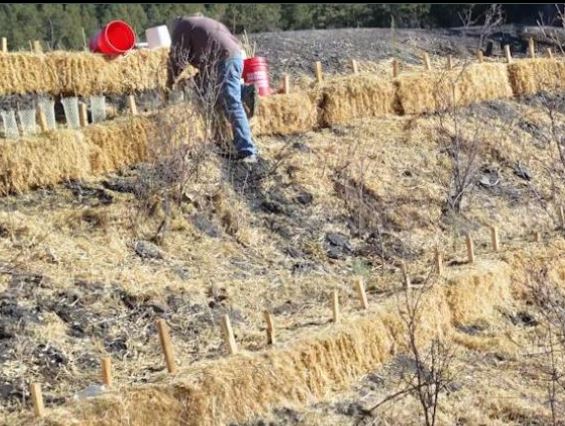 Legacy uranium mines (LUM) are prospects or properties that produced or were developed to produce uranium. The inventory, 2006-2010, only included mines that had verifiable uranium production, and that have been deserted, are no longer maintained, or are inactive. Points represent the location of surface disturbance associated with legacy uranium mines in New Mexico. The mine ID may represent several associated disturbances.  All locations have not been field verified.
The Legacy Uranium Dashboard includes a central map of the legacy uranium mines in New Mexico. Graphs and indicators give quick access to summary analyses. It provides several ways to navigate the map, search for location, and expose information about the mines. Sections that provide data sources and a dashboard user guide are included.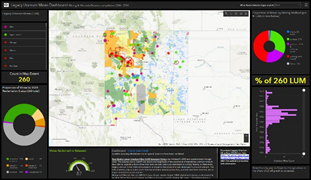 Disclaimer
The mining operation information in the Mine Registrations portion of the search engine was collected under the authority of NMSA, 1978, Chapter 69, by the Mine Registration, Reporting and Safeguarding (MRRS) Program of the Mining and Minerals Division (MMD). It is the sole responsibility of mine operators to register any mine, mill, smelter, pit, quarry or other mining facility with MRRS prior to the start of operations; to notify MRRS of operational changes; and to accurately and periodically report data as required under the statute and attendant regulation. Information in this portion of MMD's website is based on data that is reported to MMD by mine operators. While MMD reviews the reported data for completeness and accuracy, anyone using this information should be aware that it does not originate with MMD.
General Legal Disclaimer
The Energy, Minerals and Natural Resources Department, Mining and Minerals Division, shall not be liable for any damages that may be incurred in connection with any use of such data or information, which is provided for informational purposes only. Data is provided "as is" without warranty of any kind, either express or implied, including, but not limited to, the implied warranties of merchantability and fitness for a particular purpose, and any liability for defects or errors that may be contained in such data or information is hereby specifically disclaimed.