Physical and Mailing Address
Executive Director: Sarah Wood, 505.470.3710; sarah.wood@emnrd.nm.gov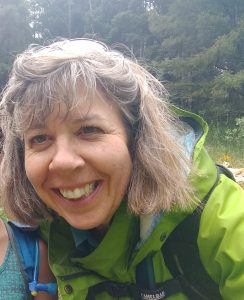 Sarah grew up in New Mexico and attended both UNM and NMSU where she studied biology and plant ecology. She's lived and worked throughout New Mexico as a field biologist with the US Forest Service and the New Mexico Natural Heritage Program. For over 17 years, she was an outdoor educator and park manager with New Mexico State Parks. She enjoys hiking, rafting, and fixing things and is thrilled to be supporting New Mexico's youth through the YCC.
Coordinator/Budget Analyst: Morgan Tolen, 505.690.5707; morganl.tolen@emnrd.nm.gov
Originally from Southern California, Morgan graduated from the California School of Culinary Arts Cordon Bleu and worked as a chef in restaurants both in California and Santa Fe. She has been in Santa Fe for over 15 years and prior to joining the YCC, worked for the New Mexico Film Office.  She is excited to be part of the YCC team.  In her spare time, she loves spending time with her family and of course cooking!