Fees
Reserving campsites through the online reservation system adds a $4 per day ($12 maximum) non-refundable convenience fee.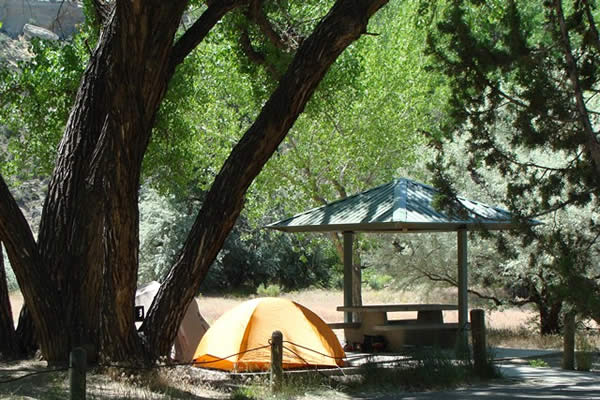 | | |
| --- | --- |
| Primitive Site | $8 |
| Developed Site | $10 |
| Developed Site with Electric Hookup | $14 |
| Developed Site with Sewage Hookup | $14 |
| Developed Site with Electric + Sewage Hookups | $18 |
| Electric Hookup with Annual Camping Permit | $4 |
| Sewage Hookup with Annual Camping Permit | $4 |
| Electric and Sewage Hookup with Annual Camping Permit | $8 |
| Water Hookup | No Fee |
• Camping fees are per vehicle, per night.
• For all other fees, go to the Fees webpage.
Types of Camping
Developed Campsite Features:
Site number
Parking space
Picnic table
Grill
Some sites feature shelters
Primitive Camping Features:
None of the above amenities
Typically a vault toilet nearby
No designated sites
Includes boat-in and beach camping
Campground Amenities
Vault Toilets – the most basic restroom, no running water
Comfort Stations – a restroom with flushing toilets and sinks with running water
Showers – some comfort stations feature showers
Check specific park for drinking water availability
Campsite Utilities
Developed Campsites may feature the following utility hookups:
Electric Hook-up (30 or 50 amps)
Water Hook-up
Sewer Hook-up
Camping at a site with an electric and/or sewer hook-up requires payment of the hook-up fee even if the camper does not use the utility.
Check the specific park "Activities and Amenities" webpage for the type and number of hook-ups available at each park.
Reserving a Campsite
Most campgrounds have a certain number of campsites that can be reserved in advance online.
Campsites can be reserved 6 months in advance.
Specialized Camping
Group Camping:
Camping areas for large groups usually feature a large group shelter.
Requires advance reservation fee for the group shelter ($30 or $50) in addition to camping or day-use fees for each vehicle.
RV Rally Sites:
Areas set aside for groups of RVs, such as on a beach.
Requires advance reservation fee for the area ($60 or $90) in addition to camping or day-use fees for each vehicle.
Equestrian Camping:
Usually a small corral is provided.
Walk-In Campsites:
Intended for tent camping, the campsites are set apart from the parking area, requiring a short walk.
Stay Limit
Campers may stay in a park for a maximum of 14 days during a 20-day period.
Campers shall completely remove camping equipment and gear from the park for 7 calendar days
during the 20-day period.
The exception is at Hyde Memorial State Park – the campsites with electric hookups have a 7-day limit.
Pets
Pet owners shall pick up after their pets and maintain the area in a clean and sanitary condition.
Pet owners shall restrain pets on leashes that are not more than 10 feet in length.
Pet owners shall not leave their pets unattended in vehicles or campsites.
Pet owners shall prevent their pets from excessive barking, howling, and making loud noises,
so as not to disturb others.
More About Camping
Quiet hours are between 10:00 pm and 7:00 am
Campers shall not save or reserve camping spaces for others even by purchasing additional permits.
Campsite check-out time is 2:00 p.m.
Campers may not retain and leave vacant a campsite for more than 24 hours.
Vehicles in the park between 9:00 p.m. and 6:00 a.m. are subject to camping fees.
Visitors may be required to pay fees for their entire stay in advance (rather than daily) for
weekends, holidays, or special events.