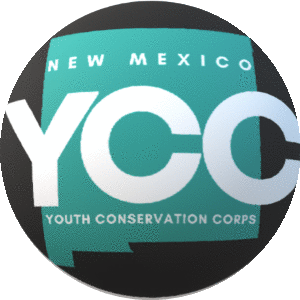 New Mexico Youth Conservation Corps
The New Mexico Youth Conservation Corps Commission is a separate agency from EMNRD.  We are allocated state governmental gross receipts taxes to fund projects that hire youth ages 14 to 25 to carry out community and conservation projects.
Local governments, tribes, and non-profits are eligible to apply for a grant. Youth gain skills that apply to careers as park rangers, foresters, wildland firefighters, conservationists, archaeologists and law enforcement.
Explore current and past projects here!
Returning Corps members are eligible for a $500 cash benefit or a $1,500 educational voucher.
A nine-member Commission governs the NMYCC. Five are Governor appointees and four are staff of state agencies. The Commission hires and supervises the Executive Director and a Coordinator/Budget analyst. We are currently hiring for the Coordinator / Budget analyst,  see more details here.  
Commission meetings are open to the public who are encourage to attend.  Agendas and minutes are published here, who are encouraged to attend.
The NMYCCC Act is the statutory authorization for the program. The YCC Rule lays out the regulations and standards developed by the Commission to administer the program.
I can confidently say that the two summers I worked with this group was one of the best experiences I have had.  Working with the ERASWCD YCC I was taught that I could connect my love for the land with a career. – Chavela Trujillo, New Mexico Acequia Association
I have acquired a new set of skills that can help me in other work settings and also how to handle other problems in real life. – YouthWorks! corps member
The YCC is hands down one of the
best programs that I've been able to work with and it really helped me a lot and they gave me the knowledge and the motivation to push myself even further and start a career for myself. – YCC Corps Member, Capacity Builders, Farmington
Contacts and Location
Sarah Wood, Executive Director sarah.wood@state.nm.us, 505.470.3710 (mobile)
YCC Administrator, Vacant, 505.988.9599 (landline)
811 Saint Michael's Drive, Suite 206, Santa Fe, NM 87505
The building is on the southeast corner of San Mateo and Calle Lorca. Our office is on the second floor.
Staff may be out of the office for travel to field sites or other NMYCC related business, so please call or text Sarah Wood at 505.470.3710 prior to visiting