Conservation Seedling Program
Conservation Seedling Program
NOTICE:  Ordering for fall begins July 3, 2023.
Ordering for our Fall season begins July 3, 2023 and ends on October 6, 2023.
Ordering is first come first serve, so order early for the best selection. Distribution will be September 11, 2023 through October 13, 2023.  
The Forestry Division offers low-cost seedlings to landowners to plant for reforestation, erosion control, windbreaks, streambank restoration, and wildlife habitat improvement. The program was started in the 1960s and since then, millions of trees have been planted throughout New Mexico. Trees are also important to help with climate change mitigation: they store carbon, provide cooling shade, and help with water infiltration. Further, seedlings can be used for reforestation projects after catastrophic wildfire and/or tree mortality due to insect and disease epidemics.
Forestry offers more than sixty different species for sale in two separate events in the fall and spring. Seedlings are sold in small containers, large containers, and/or bare root. Not all species are available in all types. Large containers and bare root are more limited in the species available.
Ordering for the spring season always begins on the first Monday of December and continues through the middle of April with distribution beginning early March and ending in late April.  Ordering for the fall season begins the first Monday of July (if that day happens to be a state holiday then it starts the next day) and continues through the first week of October with distribution beginning in mid-September and ending in mid-October.
Please note all containerized species are offered in the fall and bare root species (when available) and containerized species are offered in the spring. Fall is a highly successful time to plant containerized seedlings because the plants have time to establish roots over the winter while dormant and before putting on top growth in the spring. And as an added bonus, the weather is better for planting! Select your shipping or pickup date so that you can plant your seedlings five to six weeks before your area of the state starts having hard freeze days. For questions about prices and minimum order size refer to ordering information.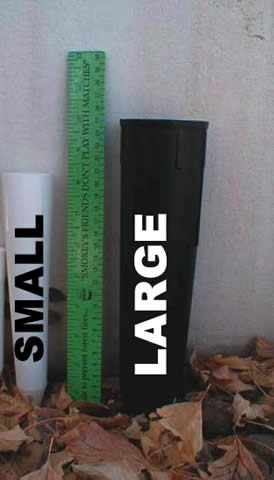 Seedling Sizes and Participation Information
To participate in the program you must own at least one acre of land in New Mexico and the seedlings purchased through the program must be used for conservation purposes. Some qualifying conservation plantings include reforestation, riparian restoration, wildlife habitat, wind break, and Christmas tree farms. Seedlings may be picked up in Santa Fe, at one of the distribution points across the state (spring only) or shipped via UPS ($10.00 shipping fee per lot for small and large container seedlings and per 4 lots of bareroot seedlings).
Example Uses
Reforestation projects are important in restoring the affected areas back to their original state or improved state. Forested or re-forested lands offer numerous benefits such as aesthetics and recreational value. Other species provided by the program may offer restoration to waterways and minimize surface runoff, which in turn reduces soil erosion. Many of the species offered by the program provide and/or improve habitat for wildlife.
Post-Fire Restoration helps to begin tree recovery in burn scar areas affected by wildland fire. New Mexico Forestry Divsion collaborates with New Mexico Highlands University and New Mexico State at the New Mexico Reforestation Center in Mora, NM.
More information is available about seedling replanting and cultivation in 2023.
A preliminary species list for the Hermit's Peak/Calf Canyon burn scar area is also available.
Windbreaks/Shelterbelt, when planted around homes, provide protection from the hot, dry winds of summer and relief from winter winds and snow. Field and livestock shelterbelts provide protection for soil, young seedlings, crops, livestock and can be used as cover for wildlife. Shelterbelts often increase crop yields and enhance land value. What better reason to plant trees?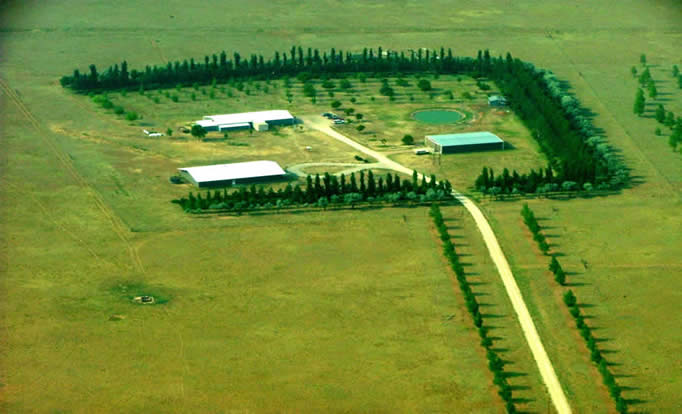 Christmas Tree Farms, Tree seedlings such as blue spruce, Douglas fir, Scotch pine, Austrian pine, Afghanistan pine, and white fir may be purchased to grow Christmas tree stock. The establishment of Christmas tree farms is an example of the wise use of New Mexico's land.
Have seedling questions? Contact Seedling Program Manager Carol Bada at carol.bada@emnrd.nm.gov or your local Forestry Division district office listed below.
For additional information contact Seedling Program Manager Carol Bada at carol.bada@emnrd.nm.us or your local Forestry Division district office.