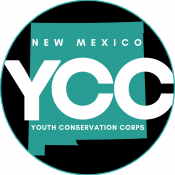 We'll post links for YCC-funded jobs, publicly funded jobs, and career resources in fields where YCC skills are useful.
If you would like to post a job or event here, please email sarah.wood@state.nm.us. Unfortunately we cannot post links for jobs at private entities, unless they are funded by YCC.
Please use the links to investigate jobs further.
Most positions have been filled, but you may always contact project sponsors who are listed here.
New Mexico State Parks is hiring two ranger positions at Elephant Butte Lake State Park, Job IDs 116780 & 116776; a Park Ranger Specialist at Cimarron Canyon State Park, Job ID 116812; Park Technician at Conchas Dam,  Job ID 118241; Park Technician – Advanced, Job ID 118239; and a Park Technician at Eagle Nest, Job ID 118238. Apply at https://www.spo.state.nm.us/
Hyde Memorial State Park is hiring a seasonal laborer, $14 / hour. Contact cheryl.kolls@state.nm.us, 505-629-5659.
New Mexico Forestry Division is hiring a Crew Supervisor in Los Lunas, Job ID 115482; and a Park Ranger at Smokey Bear Park in Capitan, Job ID 117707. Apply at https://www.spo.state.nm.us/
Apply to be a seasonal wildland firefighter.
New Mexico Historic Sites is hiring a ranger at Fort Selden & Taylor-Mesilla, Job ID 116858; and a Forest/Conservation Worker at Jemez Springs, Job ID 116775. Apply at https://www.spo.state.nm.us/
Seasonal Positions Available on the Santa Fe National Forest The Forest Service will be accepting applications on USA Jobs starting on August 16th and closing on August 23rd for positions in Spring 2022. There will be an additional application period for more positions this fall. More information is available on the Spring 2022 Southwestern Region Temporary Outreach Notice. 
New Mexico Livestock Board is hiring livestock inspectors.