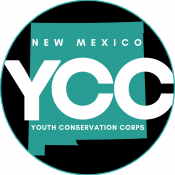 RAPID HIRE EVENT
Friday, January 21 from 2 – 6pm.
See here for details.

Celebrate your weekend by getting a new job!
New Mexico State Parks is hiring for positions at beautiful Pecos Canyon and Oliver Lee near Alamogordo.
New Mexico Forestry is looking for administrators in Santa Fe & Cimarron, Timber Managers in Socorro and Las Vegas, a fire management officer in Socorro and a manager for Smokey Bear Park in Capitan.
We'll post links for YCC-funded jobs, publicly funded jobs, and career resources in fields where YCC skills are useful.
If you would like to post a job or event here, please email sarah.wood@state.nm.us. Unfortunately we cannot post links for jobs at private entities, unless they are funded by YCC.
Please use the links to investigate jobs further.
Most positions have been filled, but you may always contact project sponsors who are listed here.