Carlsbad Brine Well Remediation Authority
Activities at the Brine Well Remediation site were suspended in July 2020 when it was projected that the available funds were insufficient to complete the project. This was because a significant portion of the cavern had failed more than twenty years ago resulting in a large void beneath the northern part of the site extending under US 285 as well as posing a threat to groundwater in the area. As a result, grout injection was shifted to sand in an effort to maintain overall cost while providing equal stabilization, but the amount of material needed was tremendous; more than 170,000 cubic yards. 
Following a review period, an estimate of the money needed for completion was developed and an additional $18 million in funding has been secured from the State, Eddy County, and the City of Carlsbad.
The contract between EMNRD and the contractor, Wood Environment & Infrastructure Solutions, is in the final stages. The next step is approval by the Brine Well Remediation Authority. Anticipating approval, remobilization to Carlsbad has already begun and EMNRD plans to resume operations in September beginning with a sonar survey of the remaining void to determine whether there has been any significant change. If sand can be injected at the rate previously achieved, we anticipate the completion of backfilling in the Spring of 2022.
The monitoring system has been fully functional throughout the pause in operations and no significant ground movement or loss in cavern pressure has been observed.
Next Steps: Continue remobilization in anticipation of signed contract.
Location of Carlsbad Brine Well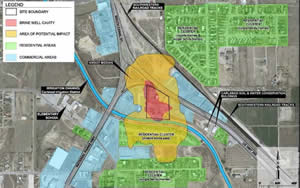 A "brine well" is a solution mining operation to remove salt. To learn more about the Brine Well visit our

 

Overview tab.
A detailed overview of the project can be found on the

 

Remediation Project

 

tab.