Carlsbad Brine Well Remediation Authority
Sand deployment at the Carlsbad Brine Well was suspended at the end of July 2020 and the deployment equipment was removed from the site.
The south portion of the site is backfilled and stabilized, while the north portion of the site is partially filled and partially stabilized. This work was completed in over 300 days with zero safety incidents. Work at the site is anticipated to resume later in 2021 once additional funding is available.
The remediation contractor continues to conduct bi-weekly visits to perform any needed inspections, equipment repair, and site maintenance. An array of sensors deployed across the site collects data 24 hours a day 7 days a week to detect ground movement and pressure within the cavity. Along with ongoing review of the sensor data, any unusual ground movement triggers immediate alerts that are relayed to EMNRD and the Carlsbad Fire Department.
The highly sensitive sensors detect even the smallest vibrations, including any small earthquakes in the region or larger earthquakes around the world. In April, there have been several earthquakes in southeast New Mexico and northwest Texas that have been felt in the Carlsbad area. The remediation contractor has been monitoring this earthquake activity and cavity stability and communicates regularly with EMNRD and the Carlsbad Fire Department regarding this earthquake activity and cavity status.
Next Steps: Continue 24/7 remote monitoring of the site.
Location of Carlsbad Brine Well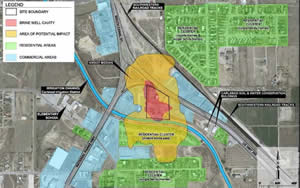 A "brine well" is a solution mining operation to remove salt. To learn more about the Brine Well visit our

 

Overview tab.
A detailed overview of the project can be found on the

 

Remediation Project

 

tab.