Sustainable Building Tax Credit (SBTC)
Sustainable Building Tax Credit (SBTC)
Please note: The 2015 Sustainable Building Tax Credit has reached its legislative cap through 2024. Beginning July 12, 2022, applications submitted for a tax credit certificate will need to meet the eligibility requirements specified under the new 2021 SBTC rule.
2021 Sustainable Building Tax Credit Rule and Application
Applicants who installed Energy-Conserving Products at existing buildings may soon apply for a certificate here. Before accessing the online application please read the instructions and checklist to verify that you have all the required documentation ready for upload with your application. Energy-Conserving Products include certain air source and ground source heat-pumps, heat pump water heaters, windows, doors, insulation upgrades, and electric vehicle charging equipment. Applications that include insulation upgrades and/or electric vehicle charging equipment will require uploading an Energy Conservation Products Work Detail Form completed and signed by the installation contractor.
Applicants who constructed new sustainable buildings, renovated certain existing commercial buildings, or purchased Energy Star certified manufactured homes may soon apply for a certificate. ECMD is working on this application and should have it ready by the end of 2022.
ECMD manages the Sustainable Building Tax Credit (SBTC) which benefits New Mexicans by incentivizing builders to build energy-efficient and healthy, comfortable homes. Homeowners who live in energy-efficient homes are saving up to 40 percent on their utility bills annually – money that goes back into local communities. The commercial tax credit has generated even larger savings.
The following graph shows the number and percentage of certificates issued for platinum projects from 2015 to 2021.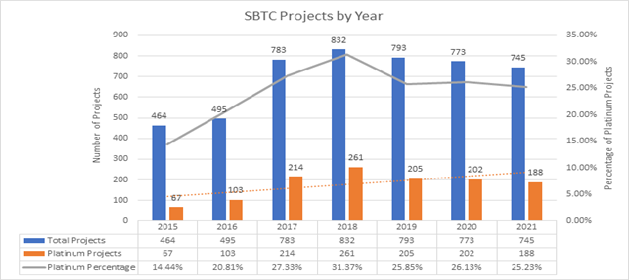 In the 2021 Legislative Session, the New Mexico state legislature amended the Sustainable Building Tax Credit (SBTC) to more accurately reflect the state's intention to incentivize cutting-edge sustainable building practices. The 2021 SBTC goes into effect on January 1, 2021 for existing building energy conserving retrofits and April 1, 2023 for the construction of new buildings, and sunsets on January 1, 2030.
The 2021 Sustainable Building Tax Credit requires a higher level of LEED (Leadership in Energy and Environmental Design) certification to qualify a project. In addition, the 2021 credit provides bonuses for a fully electric house, and/or for meeting net-zero carbon certification, zero energy certification, zero waste certification or zero water certification. The 2021 credit also scales up for low-income persons and affordable housing projects.
A new part of the 2021 credit is the provision of tax credits for the installation of energy-conserving products in existing commercial and residential buildings – helping to improve extant building stock in New Mexico. This part of the 2021 credit goes into effect on January 1, 2021. To support adoption of electric vehicle usage in New Mexico, a tax incentive is now available for electric vehicle (EV) ready buildings. Starting on January 1, 2021, New Mexico will provide a tax incentive for EV charging in residential and commercial buildings through the 2021 SBTC for both existing and new construction of buildings that are EV ready. The incentive provides for both affordable and non-affordable housing, with commercial and residential affordable buildings qualifying for 100% of the product cost up to $3,000 with non-affordable building eligibility cut to 50% and limited to $1,500.
The 2021 Sustainable Building Tax Credit can be sold, transferred, or carried forward for seven tax years. The credit is refundable for low-income taxpayers who have exceeded their income tax liability.
The Energy, Minerals and Natural Resources Department (EMNRD) is the designated agency which approves the 2021 Sustainable Building Tax Credit and issues certifications which can be submitted along with tax returns. Each year, EMNRD will issue certifications up to a yearly cap, by category of project. EMNRD has some flexibility in dividing up the category caps: if a category's cap is not reached in a particular year, that money can be redistributed into other categories, allowing for more certifications. The New Mexico Taxation and Revenue Department continues to administer the refunds or credits as part of the tax return process.
The following table shows the dollar amount of credits available by category per year, adding up to an aggregate amount of $7.15 million for the 2021 Sustainable Buildings Tax Credit, up from $5 million from the 2015 version of the credit.
Tax Credit Amount Available
Category
2015 SBTC
2021 SBTC
New Commercial Construction
$1,250,000
$1,000,000
New Residential Construction
$3,375,000
$2,000,000
Manufactured Housing
$375,000
$250,000
Large Commercial Renovation
$0
$1,000,000
Energy Conserving Products
$0
$2,900,000
Total
$5,000,000
$7,150,000
Rules
Two sets of rules for the 2021  Sustainable Building Tax Credit program have been published in the July 12, 2022 edition of the New Mexico Register and are in effect.
The rules are as follows: