Caballo Lake State Park Boating
Description: 11,000-acre lake on the Rio Grande with 24 miles of shoreline at flood pool. The lake is 78 feet deep at full storage. Length is about 7 miles on average,  11 miles at flood pool.  (does not include operations on Rio Grande possible during higher water flows.) Width is about 1 mile. Upper end of the lake contains the Rio Grande paddle run from the Elephant Butte Dam accessible at good water flows only. Some primitive boat camping available on the east side of the lake for small craft only.
Directions: About 60 Miles north of Las Cruces, New Mexico  
From Albuquerque take I-25 South about 165 miles (16 miles south of Truth or Consequences) to Exit 63.  At the end of the ramp turn left onto NM 152 E and follow signs to the park entrance.
Maps:
GPS Coordinates for park entrance:
Water Sports:
Boating, paddlesports (upper area of lake is a superb wildlife viewing area) swimming, waterskiing, jetskiing, sailing, windsurfing and fishing. Generally quieter than the Butte, a family lake. Hiking, fishing and birding are popular with bald eagles and many others on the upper marshes of the lake.
Conditions:
Excellent Boating:       4,182 feet in elevation down to 4,151 feet in elevation
     ( 326,672 acre-feet down to 100,000 acre-feet in storage)

      11,532 surface acres down to 5,061 surface acres
Good Boating:            4,151 feet in elevation down to 4,143 feet in elevation
     ( 100,000 acre-feet down to 64,000 acre-feet in storage)

      5,061 surface acres down to 3,328 surface acres
Fair Boating:              4,143 feet in elevation down to 4,129 feet in elevation
     ( 64,000 acre-feet down to 23,500 acre-feet in storage)

      3,328 surface acres down to 1,409 surface acres
River Running Canoeing or kayaking down the Rio Grande from the put in below Elephant Butte Dam is a popular activity during seasonal dam releases from the Dam and when Caballo Lake is high enough for easy takeout access. It's a great run of 10-12 miles depending upon takeout and is totally moving flat water except for a couple of dams. Takeout at Caballo lake is at K-cove or further depending upon paddling ability and late afternoon up lake winds. Low conditions are releases of below 900 cfs and high are at 5,000 cfs and above. Good flows are at 2,000 to 2,500 cfs.  Water, because it comes from below the dam is cold. The run starts at Elephant Butte Dam State Park and finishes at Caballo Lake State Park.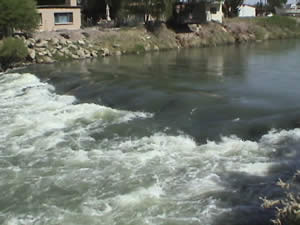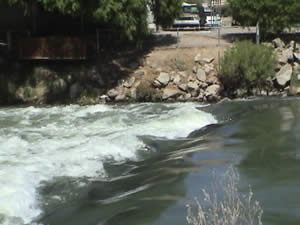 Ramps:
2
One (1) concrete ramp just east of Caballo Dam with two (2) launching lanes.  Top elevation 4142   Bottom elevation 4127
One (1) concrete ramp just north of the Lakeside Campground with five (5) launching lanes.  Top elevation 4142   Bottom elevation 4110
Latitude = 32.9113, Longitude = -107.3066 Lat    = 32 degrees,   54.7 minutes   North Long = 107 degrees,   18.4 minutes   West
Docks:
3
One (1) 10' x 80' SuperDeck just east of Caballo Dam with concrete flooring. Superdeck is handicapped accessible.
One (1) 10' x 60' Meeco Dock just north of the Lakeside Campground with concrete flooring.
One (1) 10' x 60' Meeco Dock just north of the Lakeside Campground with concrete flooring.
Wind Warning Lights:
At Apache Canyon, Eagle Canyon and Long Bottom
Fish Species:
Bass, Large and Smallmouth, Striped Bass, White bass, Crappie, Bluegill, Catfish, Northern Pike, occasional Rainbow Trout and Walleye.
Hunting:
Restricted and governed under the Small Game and Waterfowl Proclamation of the Game and Fish Department. Check with the park manager for restricted areas.  
For the 2005-2006 season…
Open for waterfowl, Virginia rail, common snipe and
sora.
Bird and Other Wildlife Species:
The north end of Caballo is very appealing. Not nearly the number of people as at Elephant Butte with pleasant beaches and good access.
Best viewing from kayaks and canoes is from October to February. Bald Eagles spend time fishing and good-to-excellent winter viewing of olivaceous and double-crested cormorant, common merganser, great blue heron, sandhill crane, mallard, gadwall, wigeon, ring-billed gull, and occasional migrating Canada geese. Increasing numbers of white pelicans have also visited the lake in recent years.
Commonly viewed terrestrial birds include Gambel's quail, northern harrier, mourning dove, northern flicker, Steller's jay, scrub jay, Brewer's sparrow, and dark-eyed junco. Wildlife-watching at Caballo includes mammals too: raccoon, muskrat, beaver, coyote, kit fox, and badger.
Special Boating Restrictions:
None.  During low water levels, the lake is approximately four miles long and the buoy line on the north end marks. the beginning of low (shallow) water levels.  The hazards that could create a problem for boaters are on the south end of the lake near the dam.  These hazard areas are a group of four islands that surface during low water levels  at about 4137 Ft. Elevation down to 4133 Ft. Elevation. These then are generally marked with buoys.  Other than these islands, there aren't any other distinct areas which may create a problem.  However, all boaters should use caution when traveling outside the navigation system.
Servicing Boats:
There is no on site marina so fueling generally takes place outside the park in either the town of Caballo or in Truth or Consequences.  Check for hours.
Recreation Areas Managed By:
Land Information:
The lake is managed for flood control and irrigation by the US. Bureau of Reclamation. Built by BOR in 1938 as part of the Rio Grande Project started in 1902.  Constructed for flood control and to compensate for storage capacity lost from Elephant Butte Lake.  Water used below dam for irrigation of nearly 160,000 acres of croplands in both New Mexico and Texas and to fulfill 1906 treaty obligations with the former Republic of Texas..
The east side of the lake adjoins US Bureau of Land Management Land with some 4 x 4 access to the lake from that side.
The name Caballo was derived from the Sierra del los Caballos, Spanish for 'horse mountain", (Literally, "jagged-ridged mountain of the horses.")  The mountains were named for the herds of wild horses found to be descendants of the horses brought here in the 1540's.
Information: