You'll find this true oasis just north of Portales.
Oasis State Park is set among cottonwood trees, shifting sand dunes, and a small fishing lake. Although fishing is the park's main draw, it also has several hiking trails, a peaceful and shady campground, and an abundance of birds.
Park Elevation 4,058 ft
The fishing pond at Oasis State Park will be closed on April 15th, 2022, from 9AM – 2PM for removal of tumbleweeds. There will be no fishing allowed during the removal of the tumbleweeds. The State Parks Division along with volunteers from Cannon Air Force Base will be conducting the project so that the pond can be stocked with catfish in the future. The park will remain open for camping and day-use. For more details, please contact the park at 575-356-5331.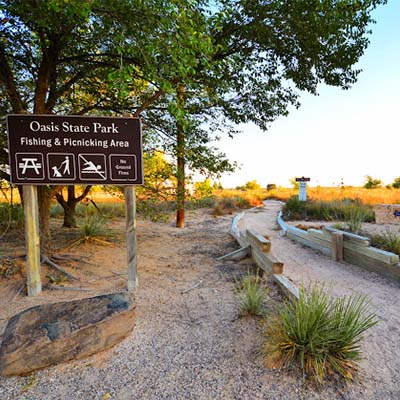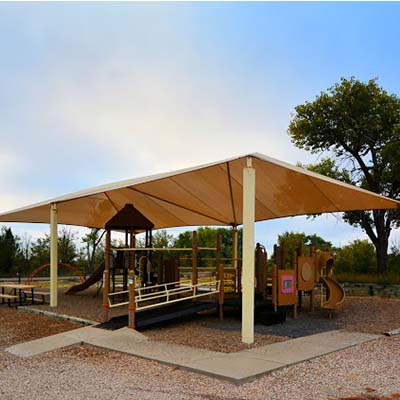 Activities
Camping
Education Programs
Fishing
Picnicking
Trails:
Wildlife Viewing
Amenities
Campground Facilities:
Online Reservation Sites:

3 W + E Sites (30 amp) (Sites 11; 12; 13;)
1 W + E Sites (50 amp) (Site 25)
1 Handicap Site W + E (50 amp) (Site 26)
4 Developed Sites with water near by (Sites 1; 2; 3; 4)

Non-Reservation Sites:

6 W + E Sites (30 amp) (Sites 14; 15; 16; 21; 22; 23)
2 W + E Sites (50 amp) (Sites 19; 20; 24; 28 & 29)
1 Handicap site W + E (50 amp) (Site 27)
2 W + E + S Sites (50 amp) (Site 17)
6 Developed Sites with water (Sites 5; 6; 7; 8; 9; 10)

Primitive Camping: None.
Restrooms:

Restrooms with water
Showers
Vault Toilets

Group Facilities:
Playground
Visitor Center
Dump Station
Find a New Mexico State Park
Use the map below to find a park and go to its page to find more information about it.
Park Alerts and Closures
Please visit individual park pages for the latest information.
Bluewater Lake
Bottomless Lakes
Brantley Lake
Caballo Lake
Cerrillos Hills
Cimarron Canyon
City of Rocks State Park
Clayton Lake
Conchas Lake
Coyote Creek
Eagle Nest Lake
Elephant Butte Lake
El Vado Lake
Fenton Lake
Heron Lake
Hyde Memorial
Leasburg Dam
Living Desert Zoo & Gardens
Manzano Mountains
Mesilla Valley Bosque
Morphy Lake
Navajo Lake
Oasis
Oliver Lee Memorial
Pancho Villa
Pecos Canyon
Percha Dam
Rio Grande Nature Center
Rockhound
Santa Rosa Lake
Storrie Lake
Sugarite Canyon
Sumner Lake
Ute Lake
Villanueva