You'll find this true oasis just north of Portales.
Oasis State Park is set among cottonwood trees, shifting sand dunes, and a small fishing lake. Although fishing is the park's main draw, it also has several hiking trails, a peaceful and shady campground, and an abundance of birds.
Park Elevation 4,058 ft
This park is in Stage II Fire Restrictions – Building, maintaining, attending or using a fire, campfire, charcoal, coal, or wood stove is prohibited. The use of devices fueled solely by liquid petroleum or LPG fuels that can be turned on and off is allowed. Such devices can only be used in an area that is barren or cleared of all overhead and surrounding flammable materials within three (3) feet of the device. Smoking is prohibited, except within an enclosed vehicle or building.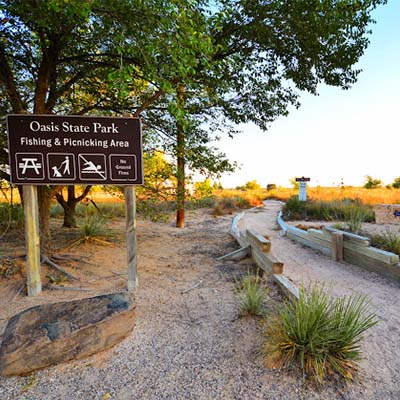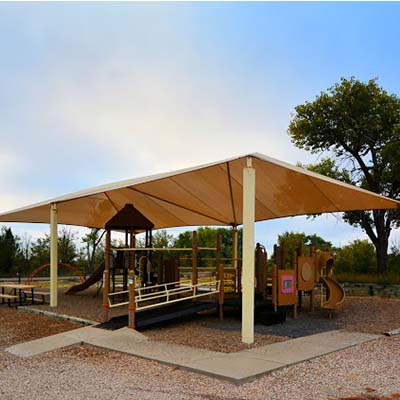 Activities
Camping
Education Programs
Fishing
Picnicking
Trails:
Wildlife Viewing
Amenities
Campground Facilities:
Online Reservation Sites:

3 W + E Sites (30 amp) (Sites 11; 12; 13;)
1 W + E Sites (50 amp) (Site 25)
1 Handicap Site W + E (50 amp) (Site 26)
4 Developed Sites with water near by (Sites 1; 2; 3; 4)

Non-Reservation Sites:

6 W + E Sites (30 amp) (Sites 14; 15; 16; 21; 22; 23)
2 W + E Sites (50 amp) (Sites 19; 20; 24; 28 & 29)
1 Handicap site W + E (50 amp) (Site 27)
2 W + E + S Sites (50 amp) (Site 17)
6 Developed Sites with water (Sites 5; 6; 7; 8; 9; 10)

Primitive Camping: None.
Restrooms:

Restrooms with water
Showers
Vault Toilets

Group Facilities:
Playground
Visitor Center
Dump Station