Eagle Nest Lake State Park
Eagle Nest Lake State Park est. 2004
This alpine lake park is located on the Enchanted Circle Scenic Byway  and is surrounded by the stunning scenery of the high mountains of the Moreno Valley, including views of Wheeler Peak, the highest point in New Mexico.
At 8,200 feet in elevation, Eagle Nest Lake State Park offers a cool retreat from the summer heat for fishermen, boaters, campers, hikers, and wildlife enthusiasts. An abundance of animals makes Eagle Nest Lake an ideal location for wildlife viewing. Known for fishing and it's a serene setting, we welcome you to visit this glacial valley park.
Want to visit?:
This park offers developed campsites with fire grills, picnic tables, and a shade structure for your comfort. The park is known for its opportunities in birding, hiking, biking, paddling and fishing. Campsites are by reservation only, but we do offer first come-first serve sites in the off-season. Please be aware of winter closures. Check Parks Alerts for more information
Boating: We are known for our quiet and cold waters. Morning is an ideal time to kayak, paddle board, row or canoe. Motorized boats are welcome and wakes are allowed. State regulations require motor boats to stay at least 150 ft from shoreline fisherman, other vessels and other water activities.
Fishing: This lake is regularly stocked with trout and salmon, but is also good for Northern Pike and Yellow Perch. Anglers can fish from the banks or by boat. Ice fishing is available in the winter.
Travel Tips:
Park is located just south of the Village of Eagle Nest

Local restaurants and shopping nearby

Day-Use Passes for this park can be purchased here
Fireworks displays every July hosted by Chamber of Commerce
Ice fishing is available January – March, depending on ice conditions
The park is a key stop on the Enchanted Circle Scenic Byway. Other stops include:

Red River 30 mins. / 19 miles
Angel Fire 20 mins. / 12 miles
Taos 50 mins. / 30 miles
Questa 48 mins. / 31 miles

Park elevation is 8,200 ft, so be prepared for high elevation conditions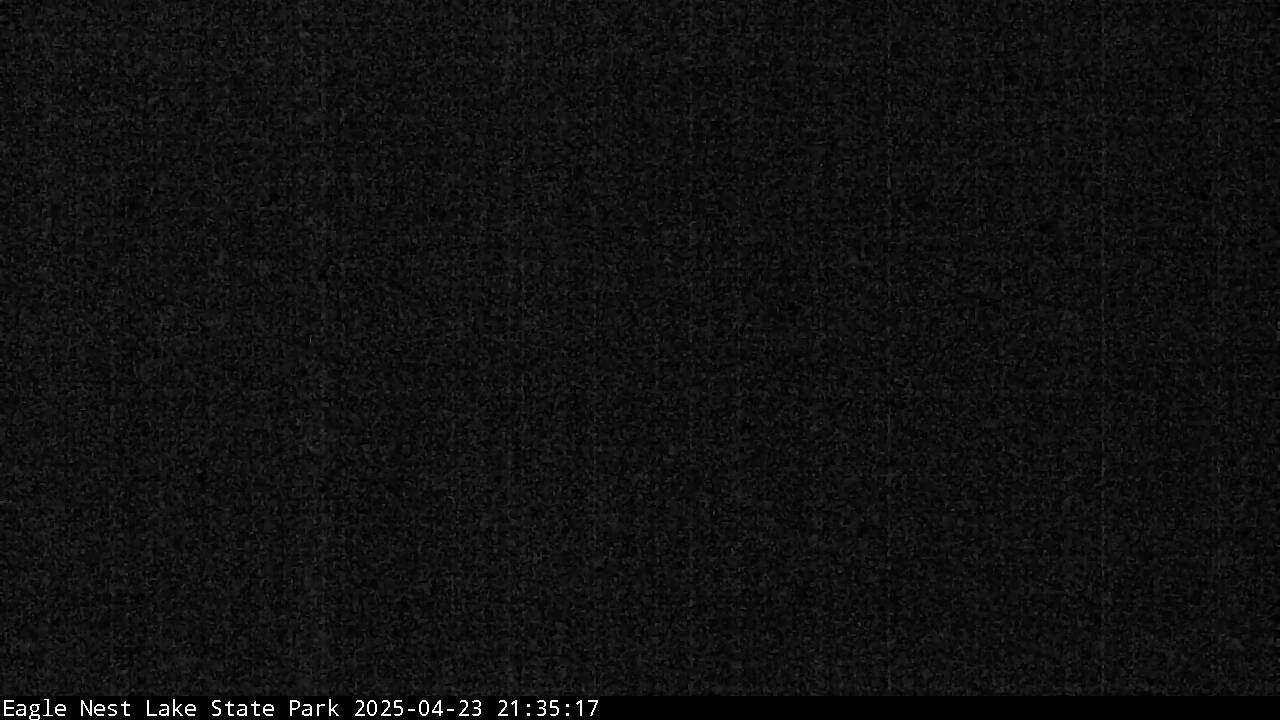 A new image is typically available every three minutes between 5:30AM and 8:30PM. Please see the timestamp at the bottom of the image above for latest image date and time.
Activities
Boating:

Motorized
Non-motorized
Canoe / Kayak / Paddle  Board
Approved PFD's must be worn at all times while on water
Sailing
Education Programs

Special Events

Polar Plunge -New Year's Day
Ice Fishing Tournament – January
Fireworks – July
Fish Fest – September

Fishing

Year-round fishing includes Ice Fishing

Picnicking
Trails
Wildlife Viewing
Winter Recreation

Cross-country skiing
Snowshoeing
Ice Fishing
Amenities
Camping

No hook-ups
Water centrally located
No dump station

19 Sites available May – September
water nearby

Non-Reservation Sites off Season Only
September – November
March – May

Developed Sites
Water nearby

Primitive Camping: None.
Restrooms:
Group Facilities:

Group Picnic Shelter
Meeting Room

Visitor Center

Exhibits
Facilities available for Weddings
Boating Facilities:
DIRECTIONS:

From Cimarron travel west on US 64 for 25 miles. Turn left at the intersection of US 64 and Marina Way. The park entrance will be approximately .5 on Marina Way.
From Red River travel south on NM 38 for 17 miles. At the intersection of NM 38 and US 64 turn right and travel 1.2 miles. Turn left at the intersection of US 64 and Marina Way. The park entrance will be approximately .5 on Marina Way.
From Taos travel east on US 64 for 30 miles. Turn right at the intersection of US 64 and Marina Way. The park entrance will be approximately .5 on Marina Way.
Hours
Day Use Hours
6 am-9 pm
Camping Quiet Hours
10 pm – 7 am
Visitors shall not operate generators, radios, or unmuffled vehicles, or engage in other loud activity during this time.