Tin Pan Canyon Gob Reclamation Project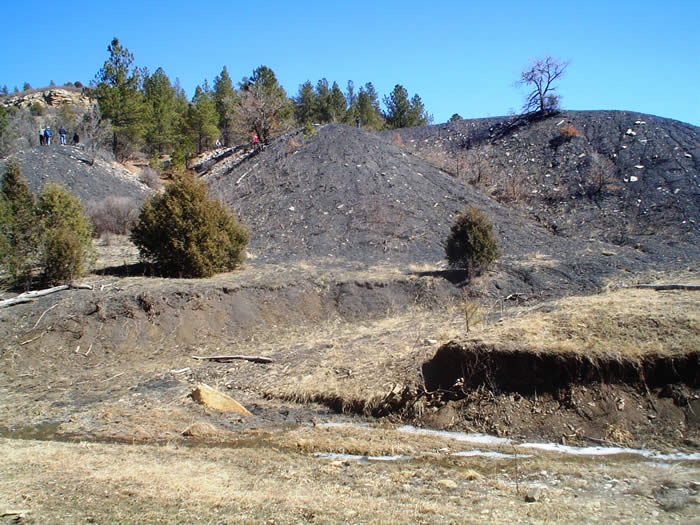 TIN PAN CANYON GOB RECLAMATION PROJECT – STORY MAP
SUMMARY OF WORK
The Tin Pan Canyon Gob Reclamation Project area is located about eight miles northwest of Ratonin Colfax County, New Mexico. The project area (see Figure 1, referred to hereafter as "Site") is on private land within the Vermejo Park Ranch ("Ranch").  A mandatory pre-bid conference is set for May 5, 2020 and bids open on May 19, 2020.
The Tin Pan Gob Reclamation Project involves stabilization of steep slopes on two coal gob piles approximately two acres in size that have been contributing mine waste to an adjacent ephemeral channel.  Work includes establishment of vegetation and installation of various erosion control structures necessary to facilitate effective stormwater management.
The Contractor shall complete the following tasks:
installation of a rock rundown to further prevent headcuts at the downstream edge of the access road from moving into the road. The rock rundown has been designed by Natural Channel Design.  Technical specifications and design drawings for the rock rundown are shown in ATTACHMENT A;
installation of erosion control wattles and straw bale terraces on contour on the gob piles and sediment logs in small gob drainages as erosion and sediment control measures (Vermejo Park Ranch will furnish the erosion control wattles to be used for this project);
installation of several low sediment barrier dams along the secondary drainage adjacent to the small north gob pile and at one small drainage below the larger south gob pile for sediment control; and
seedling planting, fertilization, amendment, and hydroseeding in coal gob piles to stabilize the coal waste and prevent future erosion.
NEPA Public Meetings/Notices
Notice Type
Date & Time
Type of Meeting
Attendance List
Bids
Sealed Bid Opening
Pre-Bid Opening

NM STATE PURCHASING DIVISIONITB No.  00-52100-20-06011DATE: Tuesday, May 19 27, 2020, 2:00 PM MDT

APPARENT LOW BIDDERS LIST

MANDATORY PRE-BID CONFERENCE
DATE: Tuesday, May 5, 2020, 10:00 AM

Due to the State of New Mexico's efforts to prevent further exposure/spread of the virus SARS-CoV-2 and to continue to practice social distancing, the New Mexico Abandoned Mine Land Program (AML) Program will be holding a virtual mandatory pre-bid meeting via Zoom, a web-based video conferencing tool.

(This meeting has passed.)
New Mexico General Services Department
Purchasing Division
(505) 827-0472
Administrative and Technical Questions and/or Comments
Administrative: Amanda Muller @ 505.476.3491 or

 

e-mail
Technical: Yeny Maestas @ 505.469.6678 or

 

e-mail
Completion of Contract
Year Completed:
Cost: $
Project Engineer:

 

Michael Tompson, P.E.
Project Manager and Assistant Engineer:  Yeny Maestas