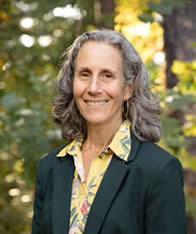 Laura McCarthy is the 11th State Forester and the first woman to take on the role since joining the New Mexico Forestry Division in 2019. Ms. McCarthy holds a master's degree from the Yale School of Forestry and the Environment. She started her career as a wildland firefighter for the USDA Forest Service and later transitioned through forestry-related positions with the Forest Trust and Forest Stewards Guild. Ms. McCarthy most recently served as the Nature Conservancy's Senior Policy Advisor for Forest and Fire Management and as associate state director for the Nature Conservancy's New Mexico office.
A message from your State Forester
Cycles of drought and warm temperatures followed by weak and strong monsoon rains and fluctuating snowpack shape our forests in visible ways. In the wet cycles our soils are moistened and wetlands and reservoirs fill, creating favorable growing conditions for forests and rangelands. In dry years New Mexico's wildland firefighters brace for months of fire activity, and throughout the year foresters work to proactively reduce overgrown trees and shrubs that act as fuel for future fires. The Forestry Division's programs and services are aligned around the challenge of keeping our state's forests healthy and resilient as the climate changes.
Southwestern fire ecologists have clearly demonstrated that reducing fuels in forest types that evolved with low- and mid-severity fire is the best strategy to increase resilience to catastrophic wildfire. The combination of mechanical thinning and prescribed fire is the most effective treatment. Accelerating the pace and scale of forest restoration is the Forestry Division's number-one strategy to address climate change. We work closely with partners across the state – from federal land management agencies to soil and water conservation districts to NGOs – to leverage every dollar we can find for treatments. Together, we have restored tens of thousands of acres with state and federal funding. Cumulatively with partner agencies and organizations we have set the ambitious goal of restoring 300,000 acres every year.
Fighting fire with fire is our number-two strategy to address climate change. We are setting up a new Certified Prescribed Burn Manager Program in 2021-2022 to expand the practice of prescribed burning on private lands. Together with federal, state, and tribal governments, we are planning for more strategic fire management.
Along with the uptick in acres treated with thinning and managed fire, rural New Mexicans are also finding sustainable employment working in the woods. New Mexicans enroll in the Forest Worker Safety Certification Program to qualifying for thinning crews and train to become wildland firefighters on fire engines and crews. Family-run and Tribally owned and operated sawmills use the by-products of restoration thinning to make a wide variety of products: from rough-cut lumber to firewood and pellets for woodstoves to vigas and latillas for Southwestern-style buildings.
Building resilience of forests to climate change requires the integration of science, management practices and workforce training. The Forestry Division and partners are committed to proactively restoring forests with thinning and managed fire. Much work remains to be done, but together we will do everything possible to ensure future generations of New Mexicans can enjoy and be sustained by healthy forests.