Cerrillos Central/Bonanza Creek Mine Safeguard Project – Phase III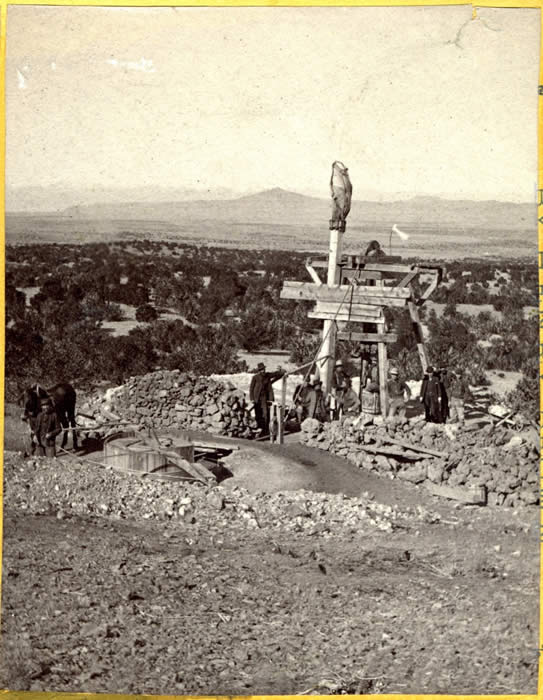 SUMMARY OF WORK
The Cerrillos Central/Bonanza Creek Mine Safeguard Project – Phase III area is located north of the town of Cerrillos, approximately 16 miles southwest of the city of Santa Fe, in Santa Fe County, New Mexico.  The project area (see Figures 1 and 2) is on BLM and private land in Sections 15, 19, 20, 21, 29 and 30 of Township 15 North, Range 8 East (USGS 7.5' Tetilla Peak, Turquoise Hill, Madrid and Picture Rock Quadrangles).
This project involves the following work:
Backfilling 44 mine features using mine waste and other nearby material, some of which have limited access available and will require backfilling by hand;
Construction of polyurethane foam plug closures at seven mine shafts; 
Construction of bat cupolas at two mine shafts;
Construction of bat closures placed inside a corrugated steel pipe culverts at three adits;
Construction of a high-tensile steel mesh covering at three mine openings;
Construction of a welded wire fence around four mine openings;
Construction of a steel picket fence around three mine openings;
Construction of signage exhibit bases at three mine locations;
Seeding of all areas disturbed by construction.
Public Meetings/Notices
Notice Type
Date & Time
Type of Meeting
Attendance List
Public Notice
March 29, 2010, 6:00 PM
Public Meeting
List
Bids
Sealed Bid Opening
Pre-Bid Opening

NM STATE PURCHASING DIVISION
ITB No. 50-521-15-05694
DATE: Friday, April 3, 2015, 2:00 PM

MANDATORY PRE-BID CONFERENCE
DATE: Thursday, March 19, 2015, 9:00 AM
meet at the Cerrillos Hills State Park office in Cerrillos, NM.

Addenda – none

 
 
BID DOCUMENT – Please follow instructions below:
1. Please READ all information in project manual before submitting a bid.
2. Upon entering all your data into form do a "SAVE AS" and save into your computer if you wish to save document.
3. To print click on the FILE tab then arrow down to PRINT.
4. Sign form and mail to:
General Services Department
Purchasing Division
P.O. Box 6850
Santa Fe, NM 87502
(505) 827-0472
NEW MEXICO PAY EQUITY INITIATIVE –

 
Executive Order #2009-049 December 18, 2009
Administrative and Technical Questions and/or Comments
Administrative: Joann George @ 505.476.3430 or

 

e-mail
Technical: Mike Tompson @ 505.476.3427 or

 

e-mail
Completion of Contract
Year Completed:
Cost: $
Project Engineer: Michael Tompson, P.E.
Project Manager: